---
Non-Alcoholic Cocktails for the Holidays
---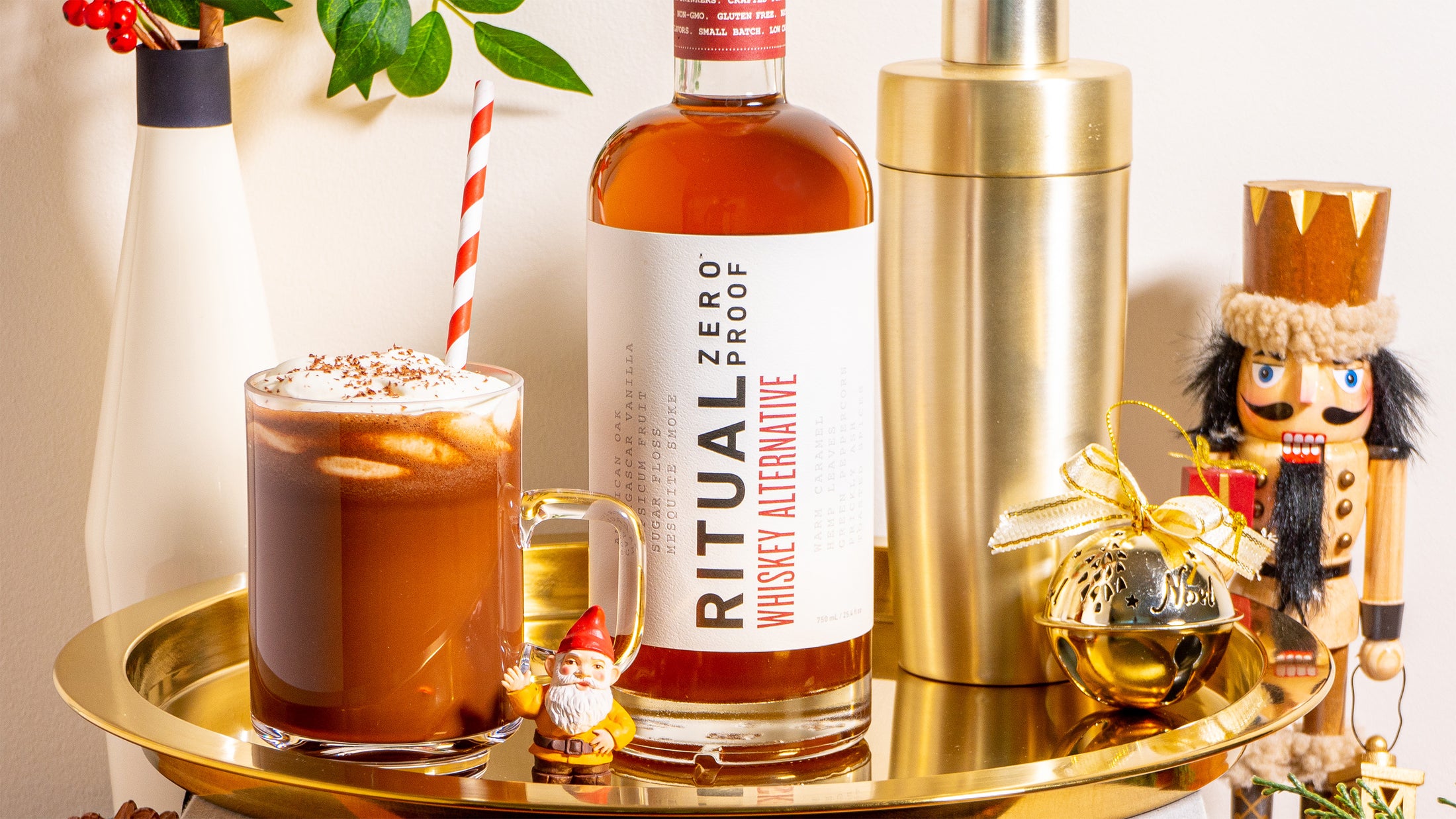 The holidays are a wonderful time of year. Plenty of opportunities to catch up with family and friends means plenty of chances to eat hearty food and drink delicious cocktails while reminiscing on times gone by and rehashing how the year has gone. It's a great time for reflection, and a time to dream on what the new year can bring.
The only "problem," with this time of year is that between the cold weather, long work hours, stress of travel, and the need for convenience, it becomes easy to justify ordering unhealthy food and having an extra drink. After all, it's time to let loose, right?
Planning to mitigate holiday damage
Ritual drinkers tend to watch their diet, crush their workouts, and strive for excellence in all facets of their lives. As such, this time of year can be harmful to all the gains made throughout the year. All the hearty foods and calorically dense drinks mean extra calories, and extra calories mean extra pounds.
Let's clarify quickly; it is absolutely natural to gain some extra pounds around the holidays. In fact, there are a variety of reasons why people may notice a little extra weight gain once the days get darker. However, this can be frustrating for many who work so hard throughout the year to keep their bodies healthy and in top shape. The good news is, with a little planning in advance, you can absolutely avoid the extra calories and mitigate damage to the gains you've worked for all year long.
The case for going sober (or drinking less) this holiday season
Besides watching your calories, there are a number of reasons why people choose to stay sober throughout the holidays (or at least reduce their alcohol consumption).
It's safer: Year after year, drunk driving from office holiday parties, family reunions, and even happy hours with friends results in

drunk driving

accidents. Even without factoring the harm to people or property from drunk driving, getting pulled over and charged with a DUI can be extremely damaging to your career, your wallet and can even result in a felony. Besides driving drunk, let's not ignore the fact that we're in early winter. This means black ice, darker roads, and more hazardous driving conditions, all of which require a fast reaction time you might not have if you're intoxicated.

It's cheaper: A few rounds of drinks and appetizers with old friends isn't cheap. Factor in two drinks, an appetizer or a meal, and a ride home and you're looking at anywhere from $40-$80 minimum. These costs add up quickly, especially during a time of year when people are spending money on gifts and plane tickets home.

It's healthier: We don't just mean on your body. Seasonal Affective Disorder (

or SAD

) is a real thing and many of the associated feelings of depression or anxiety can be amplified by the effects of alcohol. Choosing not to drink (or drinking less) can improve your mental health while also alleviating strain to your body.

It's not right for you: Some of our customers choose not to drink at all for personal, religious, moral, or other reasons. That's absolutely okay by us. Many of our customers find that our products are a great way to enjoy the flavors of cocktails without actually drinking. Speaking of which…
Drink Ritual Zero Proof this holiday season
Prioritizing yourself this holiday season doesn't mean you have to miss out on all the activities and festivities of the season. Ritual Zero Proof produces spirit replacements that are made without alcohol. Our spirit replacements contain premium botanical ingredients designed to accurately mimic the smells, tastes, and even "feel" of regular alcoholic drinks. The beauty is that zero alcohol means zero negative side effects of alcohol. These replacements can be used as substitutes to spirits when making cocktails (or "mocktails,"), and are delicious to consume without mixers or additives.
Read below to sample some of the tasty drinks you and your family can enjoy this holiday season with our whiskey, gin, tequila, or rum alternatives.
Holiday mocktails
Holiday Rush - The holiday season can be a long time – from Thanksgiving weekend all the way through the start of the New Year. As such, you're going to need a reliable drink that'll taste good every time without sitting too heavy in your stomach. Made with our gin alternative and some beautiful garnishes, this is something you can come back to time and again throughout the season.
Drink Abides - "Careful man, there's a beverage here!" Made with our rum alternative, this s'more-in-a-glass is made with a cold brew concentrate, and really knows how to tie the room together. Best served chilled in your favorite bowling alley, but watch out for the Nihilists.
Mexican Hot Chocolate - Though the rich flavors of chocolate were first enjoyed in Mexico, this savory mocktail can be first enjoyed from the comfort of your living room. Made with our whiskey alternative, cinnamon sticks, warm chocolate and dulce de leche, this mocktail will warm your body and your soul, even on the darkest winter nights.
Spiced Cranberry Margarita - Sometimes an early evening calls for something with a little extra kick. This drink, made with our tequila alternative, offers everything you need to dial things up. Enjoy the sweet, tangy taste and get ready for wherever the night takes you!
Christmas Buck - You deserve to enjoy something special during the most magical morning of the year. Made with our whiskey alternative, the citrus flavors mix with warm caramel notes to create something you'll look forward to every year.
Candy Cane Swizzle - The beauty of making mocktails is the opportunity to let your creativity shine. Made with our gin alternative, this drink will satisfy any sweet tooth and uses a seasonal favorite candy for a garnish. Sip back, relax, and enjoy.
This can be a long season. As much fun as the parties, reunions, and dinners can be, there's still plenty going on in your life. Enjoy the time spent with friends and family, and enjoy some delicious Ritual Zero Proof drinks along the way!