---
Finally, the drink of summer is non-alcoholic: Welcome Ritual Aperitif Alternative
---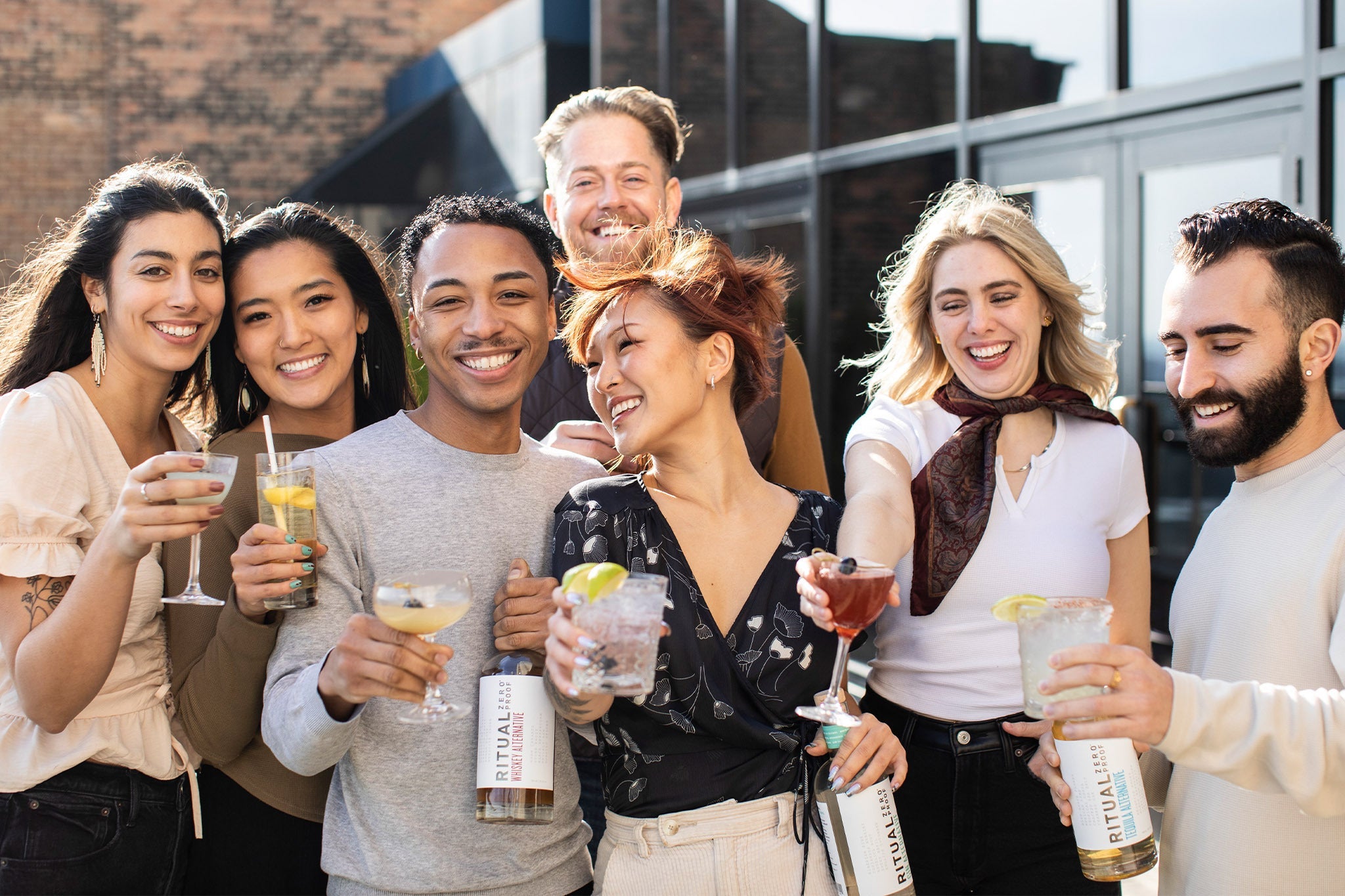 We're all about creating non-alcoholic options that let everyone experience great cocktails – no matter their lifestyle. That's why we're thrilled to introduce our newest product: Ritual Aperitif Alternative. For the first time, an authentic, alcohol-free aperitif is available for those looking for a new level of non-alcoholic cocktails. It's warm, inviting, and ready to party. 
We're pretty pumped. And you should be too. 
Summer's around the corner, and with it come outdoor gatherings, cheerful vibes, refreshing sparkling drinks, and now, Ritual Aperitif Alternative. Make the most of the season with this bright, aromatic, bold and bittersweet Aperitif Alternative. As with all of Ritual's products, the Aperitif Alternative is designed to be enjoyed by anyone, whether they want the booze or not. 
And here's a little secret – it's our most versatile (and maybe our favorite) spirit alternative to date. It works well as a base for classic cocktails, but it also pairs beautifully with soda, creating dazzling alcohol-free spritzes and so much more. 
And that's just the beginning, our Aperitif Alternative also happens to be the first member of the Ritual family that mixes perfectly with our other products. Mix with our Gin Alternative for the best alcohol-free Negroni you've ever had. Or mix it with our Whiskey Alternative for a stunning non-alc Boulevardier. But before we dive any deeper, let's take a closer look at what exactly an aperitif is.
So what's an aperitif, anyway?
Traditionally, light, dry, and refreshing, aperitifs can come in many forms, including fortified wines such as vermouth, sherry, and Lillet or bitter liqueurs like Campari or Aperol. The tradition around aperitifs dates back to 18th century France, where it was popularized as a way to whet the appetite before meals. Today, the tradition is still popular throughout Europe and other parts of the world, where people gather around to enjoy a refreshing cocktail before dinner.
In fact, the word "aperitif" comes from the Latin word "aperire," which means "to open." And that's exactly what an aperitif does – it opens up your appetite and prepares your palate for the meal to come. 
But wait there's more…
Aperitif Hour Commence
Aperitif culture varies depending on the country and region. In many European countries, particularly Italy and France, aperitif culture is deeply ingrained in the social fabric and is considered an important part of daily life.
Aperitif hour typically takes place in the early evening, and offers people an opportunity to unwind after work and socialize with friends and colleagues. Many bars and cafes offer aperitif specials during this time, which often include discounted drinks and small plates of food. Think of it like a European happy hour.
In Italy, the aperitif culture is particularly strong, with the traditional aperitivo consisting of a light, refreshing drink such as an Aperol Spritz or Campari and soda, served alongside small plates of snacks such as olives, nuts, and bruschetta. Aperitivo is not just about the drinks and food, but also about the social experience of spending time with family and friends.
Overall, aperitif culture is characterized by a relaxed and convivial atmosphere, with people gathering together to enjoy good company, delicious drinks, and tasty snacks. Whether you're looking to impress guests, unwind after a long day, or just want to savor the moment during the warm summer months, Ritual Aperitif Alternative has you covered. 
So what does Ritual Aperitif taste like?
It's like a cool breeze coming off of Lake Como. Or a sparkling sunset meeting the horizon in Monaco. But seriously – our Aperitif Alternative is a complex and flavorful blend of botanicals and spices that are carefully crafted to give you the perfect aperitif experience. It has a bold and bitter taste, with notes of citrus, herbs, and spices that come together in a harmonious blend. Perfect for replacing crimson-colored aperitifs. 
We use all-natural botanical flavors like orange blossom, gentian root, and Victoria rhubarb to give our aperitif its authentic flavor profile. The result is a non-alcoholic drink that's both refreshing and satisfying, making it the perfect choice for any occasion. And because it's alcohol-free, you can enjoy it all day and all night long if you so wish. We certainly do. 
Long story short, if you're looking for a non-alcoholic cocktail with a complex flavor profile and great depth – look no further than Ritual Aperitif Alternative. 
How to make Cocktails with Aperitif Alternative
Just like our other products, it's a simple 1:1 replacement. Perfect for replacing crimson,  bittersweet aperitifs. Again, one of the great things about our Aperitif Alternative is that it's incredibly versatile when it comes to cocktail-making. Here are a few of our favorite cocktails to make with the all-new Ritual Aperitif Alternative:
Ritual Spritz
Who doesn't love a sparkling summer spritz? With origins in Northern Italy, spritzes typically consist of prosecco, a bitter aperitif, and soda water. The drink is typically served in a large wine glass with ice and a slice of orange. For our version, you can mix Aperitif Alternative with prosecco for a low-abv cocktail. Or pair it with soda water or an NA prosecco for a lovely all-day-and-all-night beverage.
1.5 oz. Ritual Aperitif Alternative
2.5 oz. soda and/or Prosecco
Garnish with an orange peel
Ritual Negroni
A Negroni is a classic cocktail made with equal parts of gin, aperitif, and sweet vermouth. It is typically served on the rocks in an old-fashioned glass and garnished with an orange peel. The Negroni has a bitter and complex flavor profile, with notes of citrus and herbal flavors from the aperitif. The Negroni has become a staple in the cocktail world and has spawned many variations and adaptations over the years. Our Aperitif Alternative is bold enough to serve as the aperitif and sweet vermouth. Simple to make, complex to taste. 

1.5 oz. Ritual Aperitif Alternative
1.5 oz. Ritual Gin Alternative
Build ingredients into a mixing glass with ice and stir
Strain over ice in a rocks glass
Garnish with an orange peel
Ritual Boulevardier
A Boulevardier is a classic cocktail that is very similar to a Negroni, but instead of using gin as the base spirit, it's made with whiskey. The cocktail is typically made with equal parts whiskey, sweet vermouth, and aperitif, which is then stirred with ice and strained into a chilled glass. The Boulevardier has a strong, complex flavor profile that is both bitter and sweet, making it a popular choice among whiskey and cocktail enthusiasts. 
Fun fact: it's said to have been created in the 1920s by an American expatriate named Erskine Gwynne, who published a magazine in Paris called The Boulevardier.

1.5 oz Ritual Whiskey Alternative
1.5 oz Ritual Aperitif Alternative 
Build ingredients into mixing glass with ice and stir
Strain over ice in a rocks glass
Garnish with an orange peel
You can check out our full recipe page to explore the vast world of Aperitif cocktails.
It's The Spirit of Summer
There's something about summer that just calls for a refreshing cocktail. And that's exactly what our non-alcoholic Aperitif Alternative delivers. But we like to call it The Spirit of Summer because it's more than a light, refreshing beverage – it's a state of mind. Sunshine and good vibes. The feeling of chilling by the shoreline, toasting around the bonfire, or clinking glasses under the sunset. 
If you made it this far…
There's just one thing left to do…TRY IT! Ritual Aperitif Alternative offers a complex and sophisticated alternative to traditional aperitifs that is both delicious and versatile. Whether enjoyed alone or mixed into a cocktail, it is sure to be a hit with those looking for a premium drinking experience without the alcohol.