---
Top 3 Non-Alcoholic Drinks
for Summer 2023
---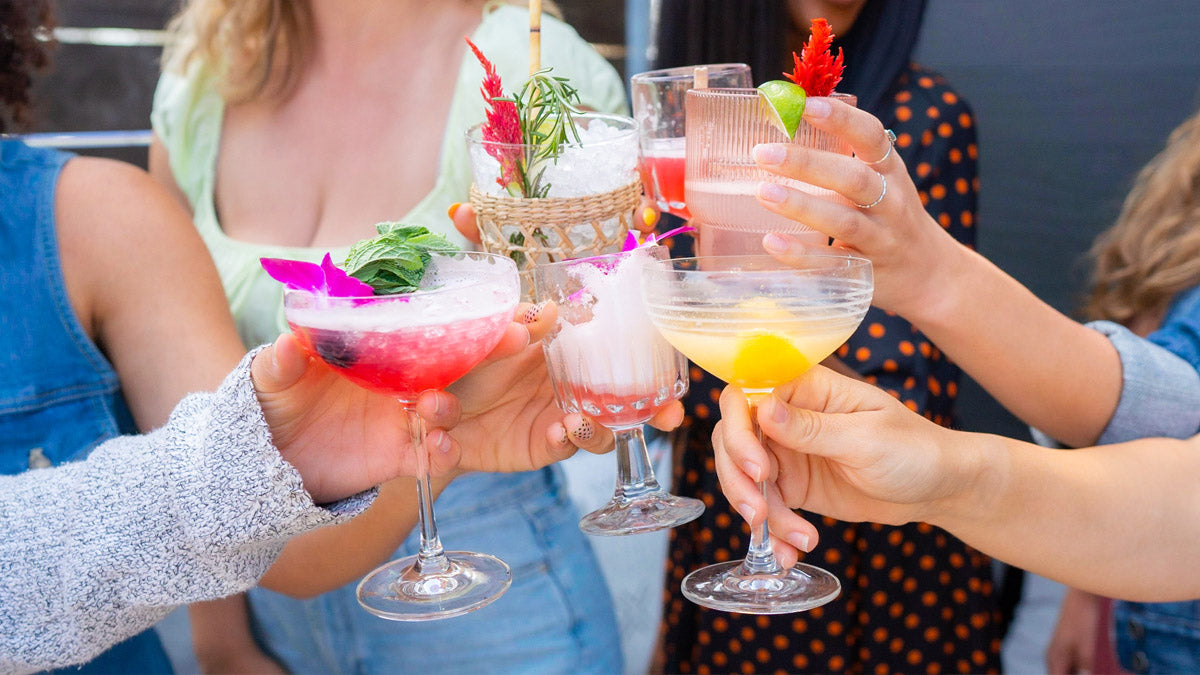 Cocktails, like certain foods, lend themselves to particular seasons. While winter cocktails are typically darker, with warming spices and deeper flavor profiles, summer cocktails tend toward the bright, bubbly, fruity and herbaceous. But a full proof cocktail under the hot sun can be a recipe for a hangover the next day.

This is where Ritual Zero Proof non-alcoholic spirits come in to save the day… or night. Ritual uses all-natural botanical flavors to create the tastes and smells of your favorite spirits, but without the alcohol. The botanicals are distilled individually to lock in the purest flavor possible, then carefully blended to develop a sophisticated profile. Each batch is microfiltered and each bottle is stamped for freshness, meaning each drink tastes just as delicious as the original spirit. Zero alcohol means zero hangover, zero compromise, and zero negative side effects.

Looking for some summertime cocktail inspiration? Let's dive into our top 3 picks for non-alcoholic summer drinks.
The PTO
Summertime in offices across the country means people finally get to enjoy that hard-earned paid time off - why not pour yourself an ice-cold drink to help set the mood? For this drink, you'll need a half-ounce of lemon juice, one ounce of coconut cream, and an ounce and a half each of both pineapple juice and Ritual Gin Alternative. Combine the ingredients, shake over ice, and add your garnish. Best enjoyed in a beach chair with your feet in the sand, the ocean waves crashing in the background, and your phone on airplane mode. You've earned this.

The Rum Horchata Latte
Fun in the sun sometimes requires an earlier start to avoid the midday heat. But an early start
doesn't mean you can't get your day started right. For this coffee-infused mocktail, you'll need one ounce of espresso, and one and a half ounces each of horchata and 
Ritual Rum Alternative
. Pour all of these ingredients over ice and stir gently, then garnish with freshly grated cinnamon. This pairs best with an early morning tee-time; load up your clubs, kick up your feet, and enjoy this iced coffee drink while waiting on your fourth who inevitably shows up late.
The All Day Margarita 
No list of summer drinks would be complete without a margarita recipe, and this list is no different. For this all-time summer classic, you'll need a half ounce of simple syrup, one ounce each of fresh lime juice and orange juice, and two ounces of 
Ritual Tequila Alternative
. Combine all ingredients with ice and shake until it's as cold as the other side of the pillow. Pour this over ice in your favorite glass and garnish with a lemon or lime wedge (or both). Whether you're enjoying yard games, taking a midday snooze, or crushing copious amounts of chips and salsa, this drink goes with every activity, any
time of day,
All Day
long.

Whichever drink you choose to enjoy this summer, indulge with confidence knowing that you can still be as productive or lazy as you like without the negative effects of alcohol. Curious about crafting more delicious summertime drinks? Head on over to our
page
and find more cocktails that will be guaranteed crowd pleasers!