---
The Many Benefits of
Upcycling Empty Glass Bottles
---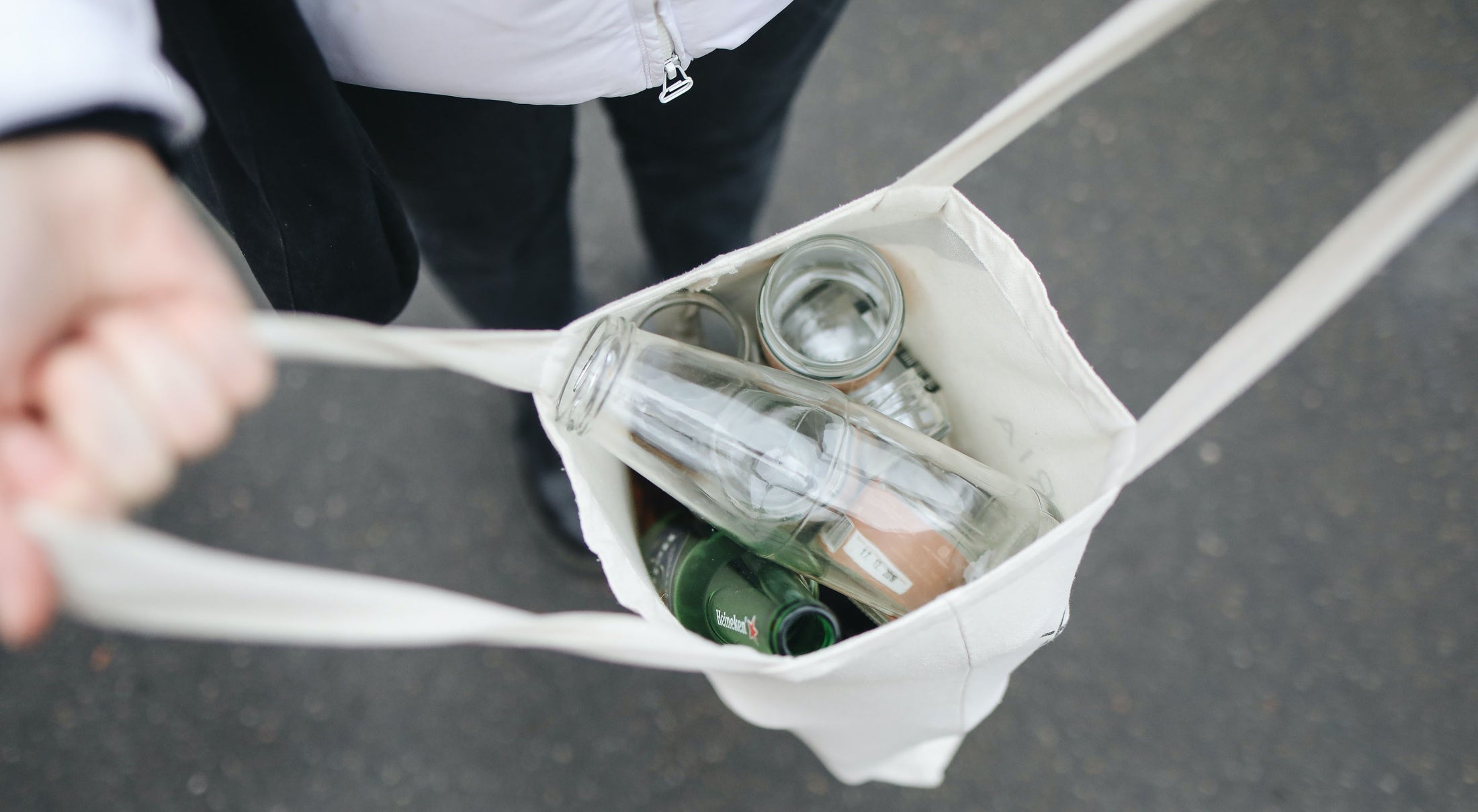 At Ritual, we've made extensive efforts to improve the sustainability of our production process. We've implemented packaging that uses 60% recycled material, optimized our shipping for lower emissions, and we've digitized elements like our recipe book that we used to print.
Moreover, we believe empty glass bottles don't have to just be added weight to your recycling bin or trash can. All it takes is a little imagination, and those bottles can become sources of cocktail convenience, fun, or even eye-catching art. Let's take a look at how reusing and upcycling empty bottles can become awesome for you!
Create Your Own Cocktail
Coming back full circle, you can always create your very own original beverage in your favorite bottle. Perhaps you're gearing up for a poolside party and you'd like to make a signature cocktail in advance. Give our Classic Mojito a try using our award-winning non-alcoholic Rum Alternative! You can mix up this delicious non-alcoholic cocktail and store it in a lovely upcycled glass bottle in the fridge for easy serving when the time comes.
You can also use a bottle as a space-saving recipe container for yourself or thirsty guests. Simply write down or print out your most popular drink recipes, roll 'em into a scroll and deposit them into your Party Bottle.

Games
Looking to mix up your backyard game routine? Add some carnival action to your next event with an authentic ring toss game! Just a few bottles and plastic rings is all it takes for guests of all ages to enjoy testing their skills. To add a novel element for adults in the mix, make up some of our tasty Meet Me at the Porch non-alcoholic cocktails.
Decorations
It's amazing how many unique works of art can be created with an empty bottle as your canvas. A few examples include:
Multi-Colored Sand Bottles – Still a classic artistic pastime, this is a great way to take a relaxing break from phones and laptops, especially for youngsters.

Bottle Lamp – This nifty DIY project allows you to add customized lighting to suit any room you like. You can find the minimal items required, such as a glass/tile drill bit, at practically any hardware store.

Holiday Bottles – Whether they're filled with candy or small decorative items of your choice, bottles can bring about extra smiles during holiday get-togethers.
Practical Household Uses
Empty bottles can be safe and effective options for plenty of indoor and outdoor requirements, such as:
Bird Feeder – An upside-down empty bottle can become a super-cool bird feeder for your feathered friends. The bottle can be situated in a cozy wooden frame that adds charm to any yard.

Soap Dispenser – Why go through plastic containers when you can create your own stylish way to wash up? This is a favorite classy way to upcycle that glass.

Spray Bottle – A glass spray bottle is an excellent alternative to plastic bottles, which can contain and release harmful chemicals. Whether you wish to spritz a dish with juice or vinegar, or simply want to make household chores more fun, put an empty glass bottle to work!
Storage
Believe it or not, an empty bottle can really provide peace of mind. A well-placed bottle can save you the hassle of dealing with smaller objects you need but aren't the easiest to keep track of. That goes for:
Loose change

Screws, nuts, and bolts

Paper clips

Batteries

Favorite fortune cookie fortunes (that seems silly, but we actually do keep some)

And many more items we all tend to keep in our "Everything" drawer in the kitchen
Storage For Kids Stuff
Note from the Editor: This was definitely written by a parent.
It used to be funny to joke about parents stepping on Legos, but Legos are seriously child's play compared to most toys on the market these days. Every doll or action figure comes with preposterous amounts of accessories, many of which can border on microscopic once they've landed on the carpet or cost you the better part of an hour if not longer attempting to locate the tiny treasures amid the rest of the colorful toy rubble. The next time you are taken to task to retrieve a pair of clear Science Lab Barbie goggles that could fit in a thimble, you may have already noticed them a while back and put them with the other minutiae awaiting rediscovery in the Toy Bottle.
Make an Empty Bottle Benefit You!
What bottle might become your next fascinating project? Will it be one full of colorful marbles to brighten up your desk? Or will you actually be collecting random Legos and tiny toys to protect your feet? View our plentiful selection of bottles and enjoy your new favorite beverage today at Ritual Zero Proof!