---
How To Make Date Night Cocktails Without Leaving The House
---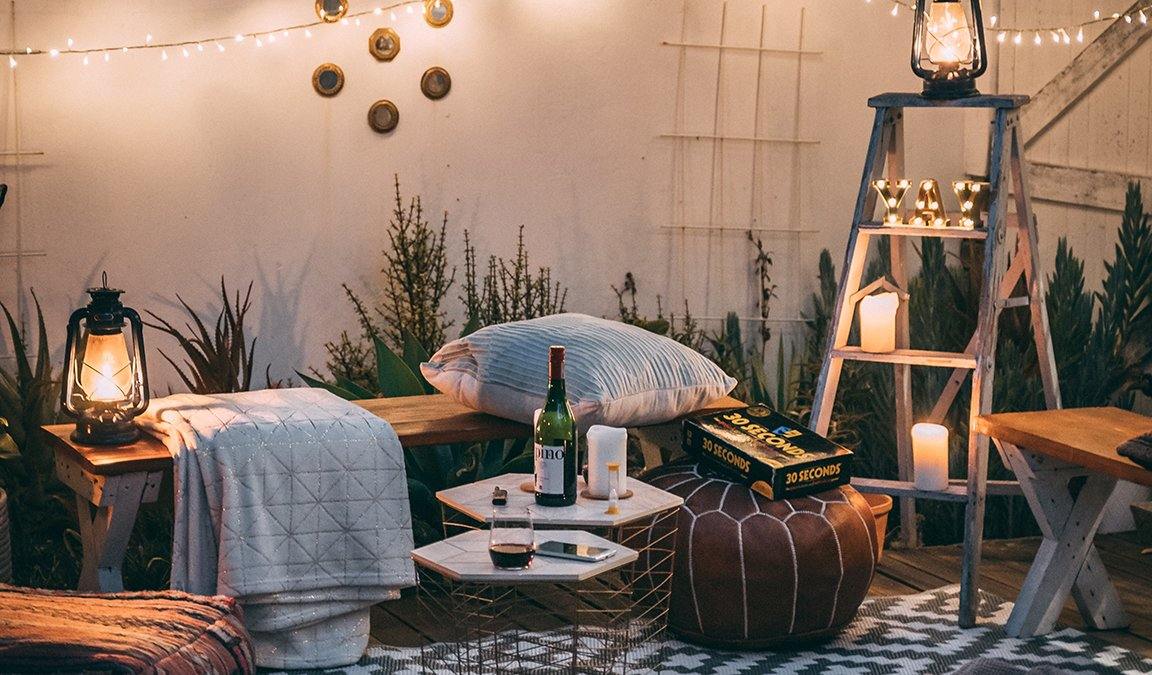 Whether it's the dead of winter or it's just been a long week, some nights we need to bring the magic of date night to the living room. But that doesn't mean you have to settle for a standard night of takeout and TV. Why not channel your inner mixologist (black bow tie optional) and impress your S.O. with some hand-crafted cocktails? If you really want to up the ante, polish off that fancy glassware that's been collecting dust, dress to impress, and throw on a Barry White record. Mood lighting strongly encouraged.

However far you commit, these three cocktails are sure to bring all the excitement of a date night out on the town straight to your living room. Without the hassle. And since these are zero alcohol drinks, you don't have to sacrifice tomorrow to have a special night with bae.

Darn The Weather
Whatever might be happening outside, this drink will dispel any feelings of cabin fever. We take the classic Damn the Weather, a Prohibition-era cocktail, and make it PG by swapping our
gin alternative
in for the hard stuff. If you want a low abv version, swap in sweet vermouth for the white grape juice. Either way, this magic potion is sure to warm up your night, and maybe even your hearts.
2 oz. Ritual Gin Alternative
1 oz. white grape juice (low abv: sweet vermouth)
1 oz. orange juice
3 dashes orange infused simple syrup (low abv: white or yellow curacao, or triple sec)
Orange slice or twist, optional
Combine all ingredients in a shaker with ice. Shake well and strain into a coupe. Garnish with an orange slice or twist, if desired.
Tequila Sour


Time to break out the citrus for your main squeeze. This tequila-based take on the Whiskey Sour is frothy and decadent, with a bite. We swap in our
zero alcohol tequila
for the real thing, without sacrificing the flavor. That way, you can keep the drinks flowing without worrying about tomorrow.
2 oz. Ritual Tequila Alternative
1 oz. lemon juice
1/2 oz. lime juice
2 teaspoons simple syrup
2 dashes bitters
1 egg white
Maraschino cherry and lime wedge for garnish.
Add ingredients to a cocktail shaker without ice. Shake for 15 seconds. Add ice. Shake again for 30 seconds. Strain into a rocks glass. Garnish with cherry and lime.
New Fashioned 


You don't have to cram into a dimly lit speakeasy in order to enjoy a classic hand-crafted cocktail. As the new resident mixologist, you can impress your date with this classiest of drinks. It's a modernist twist on the classic Old Fashioned, swapping in
Ritual Whiskey Alternative
for the hard stuff. And just like that, you've got your own speakeasy. Which could easily transform into a dance club as needed.
2 oz. Ritual Whiskey Alternative
1 dash plain water
2 dashes bitters
1 sugar cube or 1 oz simple syrup
Orange slice and cherry
Saturate sugar cube with bitters or add to simple syrup. Add a dash of plain water. Muddle and mix. Add ice and Ritual whiskey alternative. Stir. Garnish with an orange slice and cherry. Serve in an old fashioned glass.
Shop Now >