---
Bath, Candles, And Cocktails
---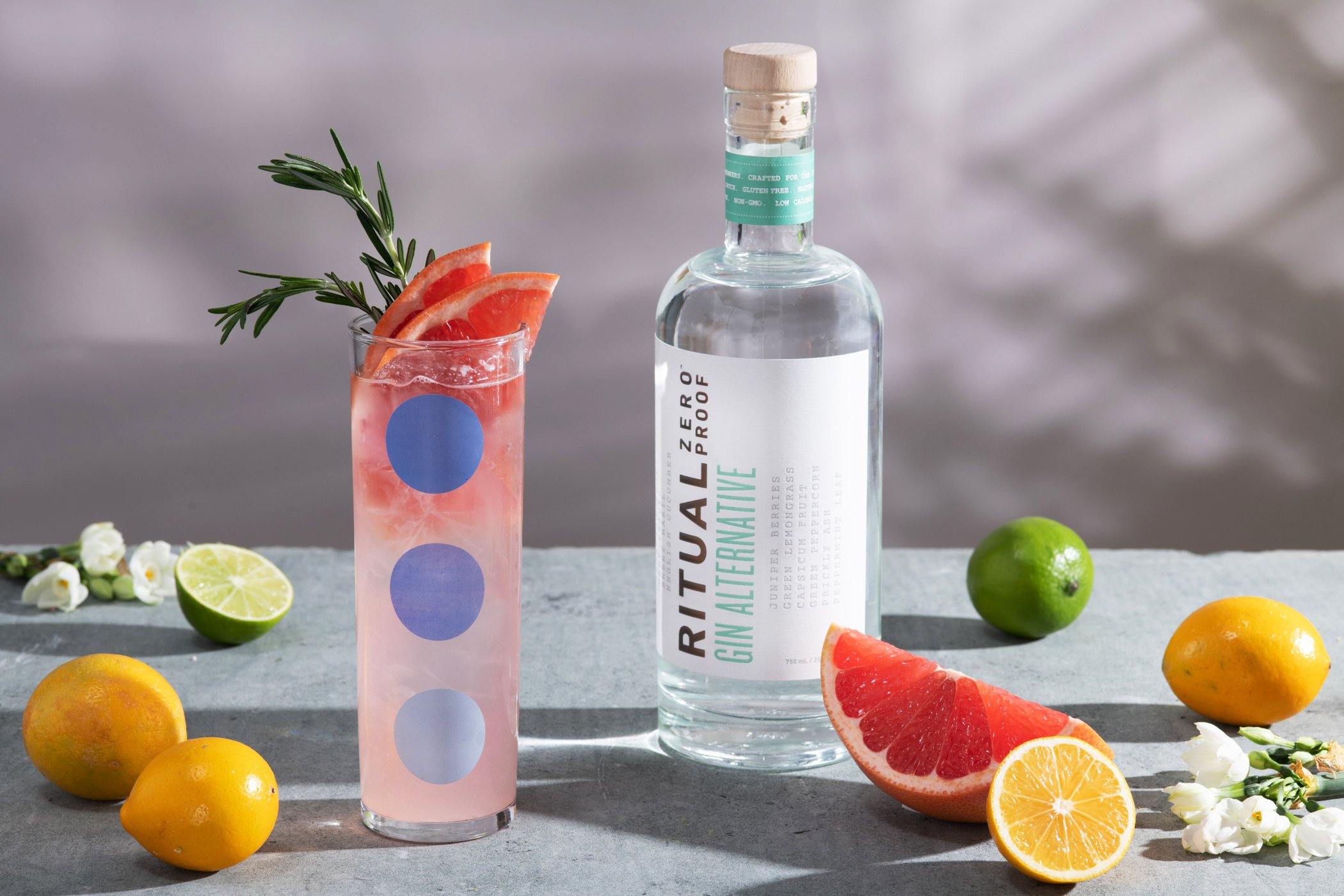 Perhaps it's still ingrained in our heads from when we were kids, but bath time remains a sacred routine for many adults. The tub has become our own personal sanctuary, there for us whenever we need a reset. Everyone has their own ritual. Perhaps you break out the Buddha Bar and light some scented candles. Or drop in a glitter bath bomb and queue up that guided meditation. Or simply relax with a washcloth over your face. 
However you choose to indulge, this is your space. And a cool refreshing cocktail is often the perfect accompaniment. Fortunately with these zero proof cocktails, you can enjoy bath time without the comedown. 
Ruby Rose Spritzer


This bright, herbaceous beverage pairs perfectly with a hot bath. We make it zero proof by substituting our
Gin Alternative
for the real thing. It's got a light sparkle and sweetness, while the scent of the rosemary invites you to relax. Just be sure to mix up a few servings in advance, so you don't have to go for a refill mid-bath.


2 oz. Ritual Gin Alternative

3 oz. ruby red grapefruit juice

1 oz. rosemary simple syrup

Sparkling white grape juice, tonic or soda water

Grapefruit slices and additional rosemary sprig


Combine the first three ingredients in a shaker with ice, and shake vigorously. Strain into a tall glass with additional ice and top with sparkling grape juice, tonic or soda. Garnish with grapefruit slices and rosemary.


Lemon Squeeze


Another refreshing beverage that will cool you off after that hot water has you sweating. The lemon has a nice tang, but not enough to harsh your mellow. We swap in our
whiskey substitute
for the hard stuff and recommend garnishing with the mint leaves for more bath-time aromatics. This makes a nice portion, which is perfect if you're really kicking back in the tub. 


4 oz. Ritual Whiskey Alternative

2 oz. lemon juice

1 oz. water

1/2 oz. simple syrup

3 dashes bitters

1 drop peppermint extract

Mint leaves, fresh and dried lemon wheels


Shake all ingredients vigorously with ice. Pour into a tall glass with additional ice and garnish with mint leaves, fresh and dried lime wheels.


Bitter Raspberry Collins


A unique drink for your special time. We use red bitter soda to add depth of flavor to this cocktail and substitute
Ritual Whiskey Alternative
for the hard stuff. Refreshing and delicious, this drink will give you a whole new lease on life. Enjoy!


2 oz. Ritual Whiskey Alternative

1/2 oz. raspberry syrup (buy or make your own)

1/2 oz. lemon juice

Red bitter soda (available in stores and online)

Orange slice and/or raspberry


Combine first three ingredients with ice and shake until chilled. Pour into a glass with additional ice and top with red bitter soda. Add orange slice and/or raspberry.

Shop Now >