---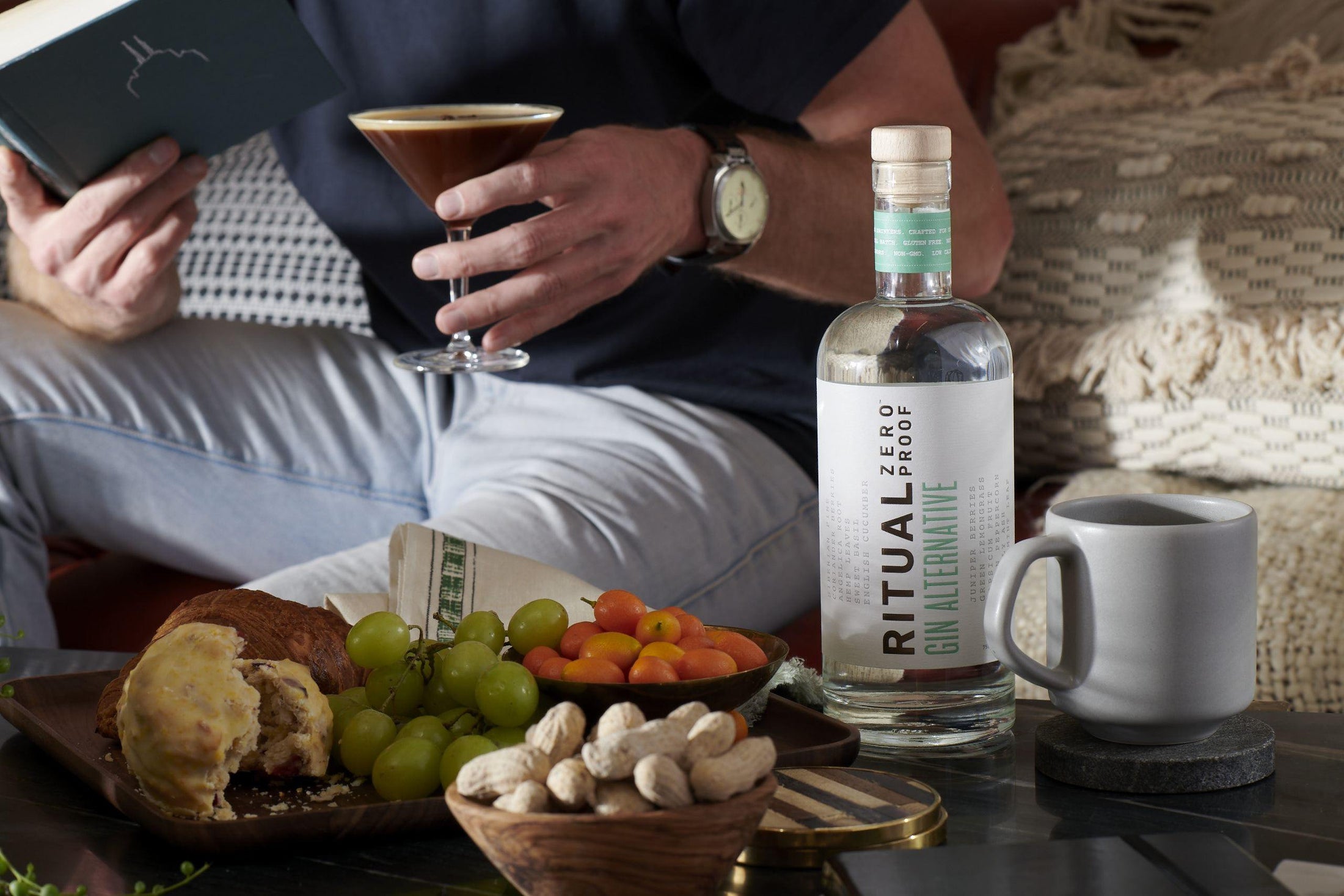 Sometimes we want a dose of education and relaxation in equal measure. Perhaps we want to escape to another place, or see our own world through a new lens. A good book can do that for us. And pairing it with a drink enhances the experience, signaling to ourselves that this is "me time." We've found that you can enjoy that same magic combo of a book and a drink, without the alcohol. The ritual is there, but the comedown is gone.
Here are three super-literate zero proof beverages to pair with your reading sesh. You can enjoy them at home, in the park, or at a cafe. Just probably not at your local library. 
Smooth Landing

First up, a drink that will transport you to another world. This aviation themed cocktail has the aura of adventure and a beautiful otherworldly color. We make it zero proof using our Gin Alternative. If reading is escapism, the Smooth Landing will get you where you need to go. 
2 oz. Ritual Gin Alternative
3/4 oz. lemon juice
1/2 oz. cherry juice (low abv: Maraschino liqueur)
1/4 oz. lavender simple syrup (low abv: Creme de Violette)
Cherries for garnish

Add all ingredients to a shaker with ice. Shake well, strain into a coupe glass, and garnish with cherries.
Doctor's Orders
When you're feeling down, a good book can be the best medicine. So what could be more fitting than pairing it with this zero proof riff on the Penicillin. We make ours no ABV by substituting Ritual Whiskey Alternative for the real thing. Enjoy it with a good self-improvement book, and you'll be ready to take on the world again in no time.
2 oz. Ritual Whiskey Alternative
1 oz. lemon juice
3/4 oz. ginger syrup
2 dashes bitters
Orange and/or lime slices
Cherry

Shake all ingredients with ice and strain into a tall glass with additional ice. Top with a little more Ritual Whiskey Alternative. Garnish with lemon and/or orange slices and a cherry.
Mint Julep
For the classic literature fans in the house, this drink is a nod to celebrated Southern gothic writer William Faulkner. Reportedly his go-to cocktail, the mint julep is both refreshing and invigorating. We make ours zero proof by substituting our whiskey replacement for the real thing. It's the perfect accompaniment to a good afternoon read on the veranda. Or the couch.
2 oz. Ritual Whiskey Alternative
1/4 oz. simple syrup
8 mint leaves
2 dashes bitters
Mint sprig and bitters for garnish
Muddle the mint and syrup in a julep cup or rocks glass. Add the Whiskey Alternative and pack tightly with crushed ice. Stir until the cup is frosted on the outside. Top with more crushed ice to form an ice dome and garnish with a mint sprig and a few optional drops of bitters.